If you are considering whether to use Moodle for free or to pay for Canvas this article is for you.  As a IT professional and technical trainer that has used many Learning Management Systems (LMS) let me make this easy for you.
The simple answer to which LMS is best it is not that easy as it depends on your requirements.  If you want a fully supported LMS comes with hosting and with all the bells and whistles like full gamification pay for Canvas.  If budget is a concern and you don't mind hosting your own LMS for free with most of the features of Canvas then Moodle is for you.
I understand that the answer was not decisive but lets dig into both LMS and review them in more detail with all the core features you will need.  Then you will be able to make a decision for yourself.
Introduction
What is an LMS?
LMS is the abbreviation for Learning Management System.
A learning management system (LMS) is a software application for the administration, documentation, tracking, reporting, automation, and delivery of educational courses, training programs, or learning, and development programs.
Canvas and Moodle are two of the most popular LMS right now which means they both will provide the basic features of an LMS.
LMS Features to Compare:
General Features
Installing & Maintenance
User Security
Pricing
User Interface
Creating Courses
Student Assessment
Training
Support
Extendibility & Integrations
Here is a table of the common features for both Canvas and Moodle:
If you would like more information on what an LMS is check out the article below.
ARTICLE: What are the features of a Learning Management System?
What is Moodle?
Moodle is a free, and open-source learning management system (LMS) written in PHP, and distributed under the GNU General Public License. Moodle was first released on 20 August 2002. It is still very popular because of its open-source nature.
As Moodle is open-source, one can easily set up Moodle in their system themselves. They can customize, and add any feature they want.
Moodle doesn't come as a subscription-type software. Their other service called Moodle Cloud, comes as a subscription type solution. We'll discuss Moodle mostly about Moodle in this article.
Moodle has good community support for its users. You can ask questions in their forums. They attend regular discussions on their features. A wide range of guiding tools is available as Moodle is so popular.
Moodle is designed for both schools or other business institutions.
What is Canvas?
Canvas is a learning management system by the company Instructure. Canvas was launched in 2011. It is rather new compared to Moodle. But Canvas took some right decisions which led them to outrun the rest competitors in the LMS business.
Canvas is a subscription type service. If you want to use Canvas for your school or institution, you have to contact them. They'll do that for you.
Canvas provides call support for their customers. So you get personalized solutions to your IT problems. Like Moodle, Canvas also has a strong community and active forums. They also host regular discussions on their features.
Canvas is intended for institutions like schools from K-12, and universities.
General Features
If you read the article above about what are the features of an LMS you will have noticed that all LMS have some core features.  Lets review the common core features between Canvas and Moodle in the table below.
| | | |
| --- | --- | --- |
| Feature | Canvas | Moodle |
| Course Content | Yes | Yes |
| User Security | Yes | Yes |
| Scheduling | Yes | Yes |
| Assessments | Yes | Yes |
| Certification | Yes | Yes |
| Communication | Yes | Yes |
| Marketing & Social Media | Yes | Yes |
| Multi-Lingual Support | Yes | Yes |
| Mobile Learning | Yes Student Rated 4.1 on Google Play Teacher Rated 4.4 on Google Play | Yes Rated 2.9 on Google Play |
| Tracking & Auditing | Yes | Yes |
| Reporting | Yes | Yes |
| Payments | Yes | Yes |
Canvas Student mobile app on Google Play alone has 5 million downloads so out of 5 that is a great review.  It also has a seperate Teacher app that means the teacher and students can have functionality specifically for them.  The Moodle mobile app has 5 million downloads as well but has a far lower rating and just a single application for teachers and students.
TIP: As we review all the features below, open up a seperate tab in your browser and look at these features in the demo versions of the LMS below.
Canvas Demo Website
https://www.instructure.com/try-canvas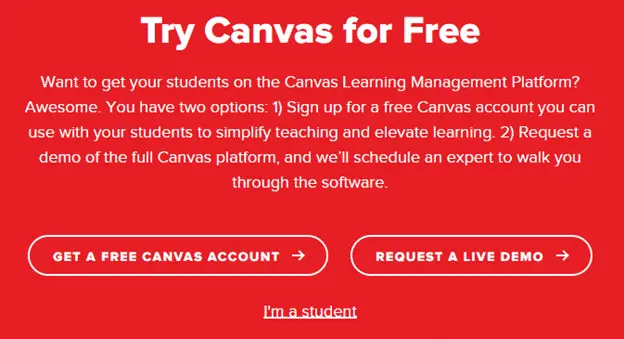 NOTE: When you sign up with Canvas for some reason their sign up emails take about 30 mins to come through.  Maybe an upgrade of their email server is in order.  So don't worry if you don't get it straight away.
Moodle Demo Website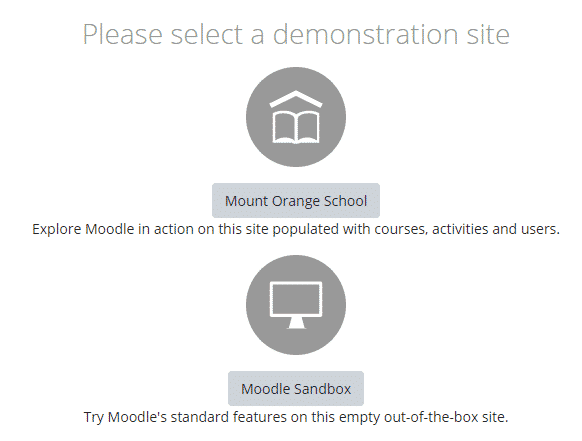 NOTE : Use the Mount Orange School as a Demo if you are K-12 and the Moodle Sandbox if you are any other training organisation.
Installation and Maintenance
Moodle
Moodle is open-source which means it can be used for free if you host it on your own server. It is easy to install through cPanel on the server. cPanel is just the webpage you get to self administer from your web host.  The Moodle official website provides proper documentation for installing Moodle in your system.
Alternately, if that sounds too difficult then you can use the Moodle.com hosting plans which you will pay for but they will provide hosting and installation for you.
Canvas
As a hosted solution they will set up your LMS for you and then give you access.  They will however charge you for the setup as it is not included in the yearly licensing.  So the installation is as easy as paying your invoice.
User Security
Managing your Administrators, Teachers and Students and being able to allocate the right permissions to them is a core feature you will use consistently.  Whether you have your IT department or a designated Administrator be the only person that can do this depends on how you will be using your LMS.
But from a practical aspect there are some things we want to secure:
Student Access
Teacher Access
Course Access
Administration Access
These features are both built into both Moodle and Canvas, but how you do them is slightly different.  They both however use a User & Roles style security just like windows.  They both let you create roles for groups of users and then create users to assign to those roles.
In Moodle Teachers by default can create their own courses and in Canvas only the Administrator can.  You can change these permissions to match and give any group of users the right access through your administrator user.
This means they are both the same from a security point of view.
Pricing
This will be a major deciding factor for most people and depending on what type of training organisation you are depends on the budget you have available.  Most K-12 will have lower budgets than Universities so this will be an important section for schools.
Canvas LMS
Canvas provides individual pricing based on your installation and include a lot of line items in your quote you probably have not accounted for. They charge you for all the set up fees as well as charge you for students that you have enrolled, not how many will use the system. This makes the pricing higher than you would otherwise expect.
If you would like to review some of the customer
Moodle LMS
Useful link: Pricing in Moodle
Moodle has 3 installment options:
Self-install
Cloud Hosting with Moodle
Partner Setup and Hosting
The self-install will only cost you the yearly hosting cost for your web host so is the cheapest price.  If you don't want to host it on the internet you can host it internally only as well.  If you host it internally it will only cost you the price of the server you buy to run it on.
The Moodle.com Cloud Hosting has  5 plans and you can view their pricing on the link above.  They have free and starter pricing for individuals and then they have pricing for schools.  The school pricing has a small, medium and large plan.
The final method for pricing is to get a quote for the hosting, install and ongoing maintenance with a Moodle partner.  This means just like Canvas you will not have to worry about the install and you will have ongoing maintenance and support for technical issues.
Summary(Pricing)
Moodle is the cheapest solution due to the software being free and you are just paying for installation and ongoing maintenance.  With Canvas you can set it up yourself for free but if you want them to setup and integrate each price is different. So you will pay for installation costs and setup as well be charged for how many potential students you will have rather than the ones you actually have. 
This means you are paying way more than you have to and there is a lot of complaining on this issue in the Canvas community.  For a real comparison get a quote from Canvas and a Moodle Partner and compare them.  If you choose to use Canvas it is good to have other quotes from other LMS providers to get a discount of your order with them by making them have to fight for your business.
Overall User Interface (UI)
Canvas
Canvas is easy to use for newbies. It feels simpler to use for most things, and for most people, that's probably a good thing. Moodle is a bit more challenging for new users. But since Canvas is simpler, there are a lot of things that it doesn't do.
The mindset of selling Canvas isn't selling lots of features only. They aim to be simple. They believe these 6 questions define a good LMS
Is it easy to use?

Does it do what is expected?
Does it provide easy mobile access?
Is it dependable?
Does it make IT, and admins jobs easier?
Does it save time?
So at a first glance, the Canvas UI looks clean and is easier to navigate.
Moodle
It is undenying of the fact that both Canvas and Moodle users will have to go through a learning curve to comprehend all the features. But Moodle looks much more complicated to a new user than Canvas.
Even the front page of Moodle looks a little… messy! It seems unorganized at first although its not.
It takes longer to adjust with Moodle rather than Canvas. But once you get used to, the process becomes easy.
Creating Courses
Creating courses is easy on both Canvas and Moodle. You can create a course just with the click of a button. Although there are subtle differences like in
Canvas
The course UI is more polished. It feels intuitive to navigate the homepage and guide through the homepage.
You just click the + button and the course is ready. You can import class material from previous Canvas class or other formats too.
Managing a course is as simple as drag and drop. But since Canvas is simpler, there are a lot of things that it doesn't do.
Moodle
Meanwhile in Moodle, the course creation is a bit more technical. You have to think of users and the storage management while creating a new course. It is because of the limits Moodle has for how many users(eg. Students or participants) and the storage available.
However, Moodle offers far more customization when compared to Canvas. This is also the reason why it might not seem too simple at first. And you can buy more storage for your Moodle services.
Student Assessments
While we all know creating the training content is the most time consuming to create and deliver.  We also know that the most used metric we get judged by is the assessment and for auditing this is the most important. 
Having enough varied methods of assessment means we can show both practical and theoretical understanding.  It also means we can monitor the students as they take the training with formative assessment and at the end of the training with summative assessment.
Canvas Assignments
Types of Assignments
Canvas has five categories of assignments:
Attendance
Graded discussions
Graded quizzes
Graded assignments
Ungraded assignments.
If you create any of these a corresponding column in the Grade Book will appear.
Editing Assignments
Assignments can be created from three different places
Calendar
Modules
Assignment page
Assignments Submission Type
Students can submit assignments on five file formats:
Videos
Images
Audio
Web Links
Other File Types
Feedback
The teacher can leave feedback on every assignment individually. Canvas supports feedback as text comment, file comment, video, and audio.  Video and Audio help build the relationship with students way better than text or file comments.
Grading
Assignments have different grading options:
Point value
Percentage
Complete or incomplete
Letter grade
Group assignments can be graded as a group or individually. Assignment groups allow you to organize assignments, weight final grades, and add grading rules.
NOTE: All assignments can have rubrics attached.
Moodle
Assignments in Moodle is called Assignments Activity. Adding the assignment button can be found on your course section.
Assignments Submission Type
Online text
Text typed into the Atto editor is automatically saved. The teacher can also set a Word limit.
File submissions
Any type of file format is allowed. The teacher can specify file type, maximum number of files and max size for files.
Feedback
The teacher can leave 4 types of feedback.
Feedback comments
Leave a text comment
Annotate PDF
Annotate the file using comments,stamps, highlighting and other features.
Offline grading worksheet
The teacher can download the grading list as a spreadsheet, enter grades and feedback comments offline and then re-upload the sheet.
Feedback files
Uploaded files may be the marked up student assignments, documents with comments, a completed marking guide, or spoken audio feedback.
Grading
Assignments may be graded with simple Grade points or customisable Scales. Customisable scales include Rubrics which the teacher can create and edit as they like.
For example:
You may have an assignment that neatly breaks down into 10 parts. But you want the whole thing to be worth 15 points. Canvas requires you to assign each part a fraction of 15 for all 10 parts to add up to 15. Moodle simply lets you multiply the assignment score by 1.5.
But these extra features might seem confusing a bit. Whatever the reason may be, Canvas doesn't offer so many features like Moodle.
Comparison of Assignments
Assignments creation and management is simpler and more well thought out in Canvas.  Moodle offers more specific and robust customization options.
There are so many options available in Moodle that it might seem unnecessary for the average user. While the extra options in Moodle is great for Intermediate to Advanced users it can be quite confusing to new users.  Canvas has purposely tried to keep a simple and clean interface so not a lot of training is required for Teachers.  This decision will depend on how techincal your teachers are and what your User Requirements are.
Grade Book
Canvas
Canvas maintains a cleaner look in the grading tab. The teacher can view the overall grades from here all in one place.  You can view examples of the grade book and how to use it here on the Canvas Forums.
LINK: Canvas Grade Book Tutorial
For managing grades, Canvas provides tools as
Grading Schemes
A grading scheme is a set of criteria used to measure student achievement in a course. Without a grading scheme, student scores are not measured against a specific standard
Outcomes
Outcomes are statements that describe the knowledge and skills that learners will develop during a course or program. The system administrator can create global course outcomes as a pool for teachers to choose from for their individual courses.
Question Banks
Question banks are found in most LMS.  You can store 100 questions and give a student 10 random questions for instance.  This is so the same student can take the quiz more than once and get different answers and also so other students will get different questions on the same quiz as well.  If you want the questions to be the same for all students you only put 10 questions in a question bank and display all 10.
Rubrics
Moodle
Grading can be accessed from 3 places in Moodle
Assignment page
Grader Report
Single View Tab in the Grader Report
The Grader Report shows the overall grades of the students. For managing grades Moodle provides 5 assessment outcomes:
Grade items
Grade letters
Grade categories
Grade calculations
Grade history
Moodle also supports Rubrics and question bank with more customization capabilities. For example:
Moodle outperforms in question bank database management. For example, if you discover that one of the question bank answers is wrong, you can simply go and update the question bank. Compared to Moodle in this case, Canvas will NOT update any of the quizzes using that particular question once the master question bank is updated.
Comparison
The Moodle Grade book offers a great array of options for intermediate to advanced users. Canvas focuses on being simple and clean for an easy to understand and quick grading of student marks. So if your Teachers are fairly tech savvy and you know they will ask for more features than Moodle is your choice.  If you want to keep things simple use Canvas.
Training
Training is critical to the successful implementation of any LMS.  If you don't provide training to the key stakeholders the system will never be used and therefore fail. You not only have to train your existing staff but also have a plan in place for new hires. The cost of training should be included in your overall evaluation of which of the products you end up using.
Canvas Training
https://community.canvaslms.com/community/answers/training
Canvas hosts its networking conference called InstructureCon yearly where you can go to learn the latest of everything Canvas LMS. Due to Covid the 2020 will be online and may be for the next few years.  Like with most conferences they show off their latest software products, plugins and technical tips with their users.
They have a wide range of training solutions as you can see in the link above as both Virtual and In Person as well as some free training videos on the basics of using the LMS.
Moodle Training
Moodle only has limited training as two self paced training courses.  One for the Teachers and one for the Administrators as self paced eLearning.  Now that is the official training but one advantage for Moodle is there are heaps of online courses for Moodle on Udemy and YouTube for free or a small fee.
Summary
Canvas clearly has more training options available but you will pay more for them then you will with Moodle.  With the courses directly from Canvas you are getting training from the people who make the LMS which assumes a higher quality.  If you end up using Udemy training for Moodle for your staff or Youtube there is no guarantee of qualified trainers or quality training.  There is also no guarantee that training will be released with each upgrade.
So in this regard Canvas is the better option for training even though you will be charged a lot more than any of the Moodle training options.
Support
Whether you find a bug in the software or just can not configure something the way you want.  Your system administrator will eventually need help.  While the person you nominate into this role may get more training they will also funnel through support questions through from Teachers.  With my many years experience in IT I would recommend that you at least get the first year of support to bed down the system and support your staff.
Canvas Support
https://community.canvaslms.com/
Canvas Support starts with the community at the link above.  But if you want the direct links for support you can use this article in the support seciton of the community.
Support Options
LINK: Contacting Canvas Customer Support
This support document shows you the options available for all the different applications as well as users.  This is easy to follow but in most cases it is getting you to use the internal software help button which is a chatbot that will then if it can not answer your question put you through to real support.  The other option for non critical issues is to ask the community.  There is no guarantee of response time there though.
Moodle Support
Moodles support options depend on how you installed the software.  If you installed the software yourself on your own web server you don't get any support with the product but you can submit software bugs.  The recommended support is through their partners.
If you like local support from people you can meet up with then you can also look at the Moodle partner website and find partners in your area.  Click the link below and then change the search to your location and support as the category.
LINK: Moodle Partners
Cloud Moodle features a very flexible support team. Whenever you encounter an issue, you can ask for guidance using various methods. These methods include:
Email Support
Phone
24/7 Live Chat Support
Online Support Tickets
NOTE: If you installed Moodle with one of their partners then you will receive your support through that company.  It is important to discuss that with them when you contract them for the initial install for ongoing support and maintenance.
Summary
As with any Open Source software support is always one of those issues that you will have to deal with.  Moodle have made it quite simple with their partner search tool so you can find someone local to you.  So with both you can get support even if it means with Moodle that you will use a Partner for install and ongoing support.  That may be better for you to have someone local that can come to site and fix problems there.
One advantage Canvas has is that if there is an issue that comes up during support like a bug or feature enhancement they can directly fix it. This means certain types of support tickets can be fixed quicker. 
With Moodle you could still submit a ticket for a bug or feature enhancement but there is no guarantee or resolution or how long that will take if ever.  This is why people generally go with supported software from a liability and the buck stops with the supplier to fix the problem.
So with support Canvas clearly wins this one.
Extendibility & Integrations
When choosing an LMS for your online courses it is important for the system to be compatible with other software solutions that you might be using. Plugins allow you to extend the functionality of the LMS or to integrate to your other software.
Moodle Plugins
LMS Moodle features a huge list of 1688 plugins and 950 developers at the writing of this article. This is way more than the functionality that you can add to Blackboard.
All the plugins are continuously updated by the worldwide community. Some are paid for and some are free depending on the licensing with the developer.  Paying for a critical plugin means you also get support and a guaranteed Service Level Agreement (SLA) on how quick they will respond to your support requests.  It also means they will be kept up to date.
The Moodle Plugins allow for Integration to third party systems as well as extending functionality.  So you could integrate easily to Paypal for instance.  Moodle also has plugins to integrate to Blackboard tools.
Canvas Plugins
Canvas uses Learning Tools Integration (LTI) which is the same as Moodle plugins.  The exception is that a global organisation manages the plugins.  Below is a link to the list of certified plugin providers for Canvas.
https://site.imsglobal.org/certifications
There are about 4000 plugins by third party providers so plenty to pick from.  Moodle has a plugin that also allows it to integrate to the LTI plugins as well.
Summary
This is a clear win for Moodle.  Not only does it have all of its own Plugins but it also has access to the LTI plugins as well.
Final Summary
So which one is the bet for your organisation.  Well I would assume that if you are a school with a limited budget then Moodle is the clear choice.  You can install through a partner and have unlimited users and larger file storage compared to Moodle Cloud.
If you were a University or private training organisation there is a case for using Canvas where you can pass those costs onto student fees.  You will get better support and training with a simple and clean interface.  If you need specific functionality which is often the case with these types of training organisations you can get them to develop that into the install for you.
That would be my advice but know there are plenty of Universities and private training organisations that use Moodle as well.  If you need special functionality that is not in the core features or accessible through plugins you can hire a developer to create a plugin for you.  Or as a University make it a Postgraduate project for an IT Masters student.