How To Teach LIVE Online Classes?
This article is an example of the methods you can teach students in real-time online. After many years of researching and teaching online classes I wrote this article to share this knowledge with you.
Methods of Teaching Live Online:
Audio Conference: What are the tools for audio conferencing?
Video Conference: best video conferencing?
One on One Tutoring
Web Conferences
Virtual Classrooms
Public Streaming: How can I live stream for free?
Now that you know the core methods of teaching online I will show you the free and paid solutions for each of these methods and also some tips from years of delivering online classes.
What are the tools for audio conferencing?
Examples of free audio conferencing tools are:
The tools for audio conferencing have taken over one on one and group audio chats around the world especially post Covid. And as well as being used for work audio chats at work most people use them privately as well now. Even just for sending and receiving voice messages instead of having to type a message.
Tech savvy teachers always have an open Whatsapp group for their students to ask questions any time and in most cases the students will also use it to answer other students' questions as well. This is a great way to create debate and get students questions answered as they are actually doing the content.
PRO TIP: These audio conferencing tools are great for when you are creating content and you can have your development team communicating on an open line all day at much lower bandwidth than video or web conferencing. This is brilliant for the modern national or global teams.
What is the best video conferencing?
The best video conferencing software is Webex and Zoom. While traditional big hardware video conferencing is now no longer really used with most laptops coming equiped with a web cam and the purchase of a seperate higher quality one now very affordable.
People used to self concious on video in web conferences but post Covid it is now the norm and while some meetings don't really need the video component and just the audio it is nice to put faces to names of people you work with or students you are teaching.
Examples of Open Source Video Conferencing Tools:
Here is also an article from PC Mag on some physical office based video conferencing software:
ARTICLE: PC Mag Best Video Conferencing Software
INTERESTING NOTE: Some universities are now requiring online students to have webcams to record exams sessions they take online like the University of South Australia.
One On One Tutoring
Whether you use a remote desktop tool like Teamviewer there are now more ways than ever before to help a student remotely anywhere in the world. These tools are probably the most under utilised for teaching and should be more widely taught and adopted by teachers.
The ability to see exactly what the student sees on their desktop and take control if required can save you hours of emails and calls with remote students.
As well as remote desktop software don't forget one to one video for teaching and supporting students with the wide array of video chat applications like Messenger, Whatsapp, Skype. This allows you to see the car they are pulling apart from the hole they made with a drill or any other offline exercise you are asking them to complete.
PRO TIP: Team viewer is also now available on mobile phones and tablets so you can remote support students that may be having issues on those devices as well all from your phone or PC.
Web Conferences
Most people have seen web conferences in action and if you haven't just done a search on YouTube for them and you will get a demonstration of them. In this section I just wanted to mention a few of the open source solutions for web conferences as well as the big players like Cisco's Webex and Zoom.
Essentially you are showing your screen with a group of people with the aid of a group audio and text chat. Most also have a shared white board and the ability for your students to raise a hand to ask questions. As well as the ability for the teacher or students to mute and unmute themselves.
Three Open Source Alternatives are:
For a list of paid web conferencing solutions check out this article from PC Mag "The Best Web Conferencing Software"
Virtual Classrooms
A true live virtual classroom requires the combination of a few technologies.  When teaching a class especially if it requires software installed is better done where the teacher creates the training environment to ensure they are all the same. 
This is commonly done online with Virtual Machines which are full running versions of an operating system like Windows that can be accessed remotely.  The teacher then installs classroom management software to view and remotely support students during the class while teaching is taking place just like in a real classroom. 
The teacher presents the content and their screen to the students via Web Conference which allows students to talk to each other and ask questions of the teacher.
The online computers (Virtual Machines) are all linked together in a computer network allowing them to all interact with each other and share files and for their software to talk to each other. 
This network allows for the remote control or remote support software to work as well.  A combination of PowerPoint presentations and live screencasting as well as virtual training manuals is often used during these classes.
Virtual Training Manuals are eBook, Web pages (HTML5) or PDF versions of the training manuals that are protected and shared with the students.  This allows the Teacher to assign tasks while doing one on one tutoring or support for a troubled student. 
I have linked this title to SkyTap that provides one part of the solution which is the virtual machines with class view and remote support tool.  You will still need to organise a web conference and your own training material.  You can also make your own customer Live Virtual Classroom as well.
This style of training you can charge the most for and is the most effective and engaging form of online teaching you can do.  It is a little more technical but worth it with the potential outcomes.
Summary of Technologies Used for Virtual Classrooms
Online Virtual Machines – For the teacher and students to work on a controlled environment
Classroom Management Software – For online class management and viewing
Web Conferences – To broadcast the Teachers screen to students
Teacher Remote Support Software – For the Teacher to supply student support
Student Remote Desktop Software (Preferably HTML5 Clients) – for students to connect to class
Example design of a Virtual Classroom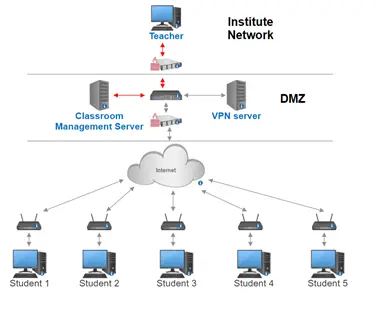 Live Online Classrooms is explained further in another article so don't be too concerned if some of these words and concepts are alien to you.  We cover it in more detail in a later blog post.
How can I live stream for free?
If you don't mind who watches your training and you want to put the bandwidth and connection problems on a third party like YouTube. You can live stream a demonstration you may want your students to see straight from a video camera. Or alternately a computer screen or device screen for them to watch what you are doing.
While YouTube has its own live streaming tools the most used tool is OBS Studio and it is also free and open source. It will let you stream video and your screen at the same time as well as having green screen type functionality.
You can find the software on there website here:
Conclusion
These are all the main types of live tools you can use to run classrooms with students in real time. This is by no means an exhaustive list and more custom and blended alternates are released every day. As new tools come out I will highlight them in future articles but this will definitely get you started in choosing what will be good for your students.