Whiteboards have become an interactive tool in the classroom. In the past, however, if a teacher wanted to save a whiteboard lesson, they had to film themselves separately before sharing it with students who were absent or go to school remotely. Now, thanks to apps and advanced technology, this has changed.

Teachers can use whiteboards such as Jamboards to give lessons and provide collaborative assignments through Google Classroom. These boards will record as you teach, so you don't need to film separately. Apps also allow teachers to take advantage of whiteboard tools without owning the device.
Google Classroom has become a beneficial tool both for in-person and remote teaching. Using an interactive whiteboard, such as Jamboard, enhances the Google Classroom experience for both teachers and the students.
A Teachers Guide to Using Whiteboards in Google Classroom
What Is Jamboard And Is It Free to Use for Teachers?
Jamboard is one of the products offered in the Google Workspace and integrates with their other offerings, such as Google Classroom and Google Meet. Like Gmail, it is free to use. However, if you want an actual Jamboard device, these cost $4,999.
The Jamboard whiteboard interacts with students' computers and saves as you teach. It also has handy features such as handwriting to text, allowing you to smoothly give a lesson while making it easy for the students to read. But again, you don't need an actual Jamboard whiteboard to use Jamboard with Google Classroom, only your computer or tablet is required.
Mason City School put together a comprehensive video for educators on using a Jamboard in the classroom with tips. You can watch it here.
How to Use Google Jamboard For Teachers?
Jamboard is a flexible tool that allows teachers to give mini-lessons and demonstrations as well as posting assignments for students to do on their own or collaboratively. The tool will enable you to add images, charts, GIFs, and even "sticky notes" to lessons, bringing distance learning alive.

Jamboard's editing tool allows you to customize how you want the students to interact with it. For example, for a lesson you only want the students to watch, you close the editing. Keeping the editing options open allows students to add content and respond. You can also send out assignments where students only use the Jamboard assignment in groups or individually.
Tips for Getting Started with Jamboard on a Computer or Tablet
First, open Jamboard on your device, either a computer or tablet. Next, you go to the corner of your Google Workplace, formally G Suite, and click on the icon that looks a bit like a waffle or the six dots on dice. Once you click on it, scroll down until you see the Jamboard icon: a yellow circle with two orange squares in the upper right-hand quadrant.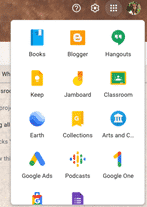 When Jamboard opens on your device, go to the bottom right-hand corner and click on the plus symbol.


Once you have clicked the plus symbol, you will be taken to a new Jam and are ready to create.
Your Jam initially comes with two frames, visible at the top. But you can add frames by clicking on the arrows at the top. Tools to help you customize your frames include:
Setting the background. This can be blank, dots, lines mimicking student writing paper, two types of graph paper, a blueboard, and chalkboard. You can also load your own background, such as a photograph, should you desire.
A customizable pen. This can be a pen, marker, highlighter, or brush. You have six color options: Black, blue, green, white, yellow, and red.
An eraser.
Sticky notes can be customized for color, size, and content and pinned to the frame.
An insert image icon allows you to upload an image, use a link, access your camera, google images, google drive, or google photos.
An insert shape tool.
An insert text tool.
And a laser pointer so you can direct students' attention to content on the frame.
Teaching from a Distance has a YouTube video that goes into greater depth on further developing your frames for your lessons and projects.

Once you have finished making your project, you can load the Jam onto Google Classroom as an assignment, either to the class, groups, or individually. If you only want them to watch, you don't allow editing, or you can open up editing to enable the students to interact.

You do not have to load a Jam for each student if you want them to interact with the Jam individually, without interfering with another student's work or modifying the original.

How to use a Jam as an Individual Student Assignment?
Go to Google Classroom.
Go to "Assignment" and give the instructions.
Click "Add" and select the Jam from Google Drive.
Select and insert your Jam. Then you have the option of "make a copy for each student."
Struggling? This YouTube video can walk you through it step-by-step.
How to use Jamboard in Google Meet?
Once you are confident in using Jamboard, you can use it for live lessons through Google Meet. You do this by sharing your screen while on Google Meet. This will allow students to see your frames while you teach.

Want to see how it is done? Teacher's Tech has a YouTube video that does just that.
Jamboard Ideas and Activities for Teachers
You can design your own games on Jamboard. They can be as simple as a basic matching game or playing Pictionary, to creating your own gameboard and rules.

This YouTuber makes her gameboard using the sticky notes feature on Jamboard.
Jamboard Art
Students can use Jamboard to create digital art. For example, they can use the pen tools to make unique pieces by free hand. Or they can make a mixed piece using photos, sticky notes, text, and the pen.

Sentence Building
For young readers, a teacher could write down pieces of a sentence on various sticky notes, jumble them up, and have the students put the stickies in order.

A similar exercise could be used for mathematics.  
Collaborative Student Projects and Presentations
Jamboard is an excellent way for students in distance learning to still participate in group projects and presentations in various subjects.
More Jamboard Ideas and Inspiration
While creating your own Jams is great, it is also time-consuming. Ditch that Textbook and We are Teachers have some free templates available to help.

TeachersFYI provides a YouTube video on teaching Elementary Mathematics with Jamboard.

TeachersFYI also provides a YouTube video on teaching reading with Jamboard.
7 Top Interactive Whiteboard Apps
Doceri puts screencasting, desktop control, and an interactive whiteboard all together. Presentations can be live using Airplay or your Mac or PC. The app does allow students to work collaboratively, too.

Doceri is free to download and use. However, you can buy a site license for 30 dollars to remove pop-up adverts and watermarks. 
This app is partly funded by the National Science Foundation and has accessible features such as text-to-speech and voice recording. In addition, it features many design tools, voice stickers, SimpleShare™ swipe-to-share collaboration, and allows unlimited cloud storage.
It offers a 30-day free trial, and teachers can subscribe to the Monthly Unlimited Plan for $9.99 a month or take a year for $99.99.
Educreations is considered a fun and easy app that allows you to assemble presentations quickly. The app is recommended for making instructional videos for students.

It is free to use. However, the Pro Classroom Edition is $99.99 for a year.
Explain Everything calls itself the Swiss army knife of whiteboarding apps. It can bring media directly from iCloud, GDrive, Box, Dropbox, Evernote, and more. Project options are versatile and can even be animated.
Explain Everything provides a 30-day free trial. It is $12.99 for an individual license. There are various educational packages, depending on needs.
ShowMe turns an iPad into an interactive whiteboard. It has voice-record, multiple brush colors, can create video from any document, and provides unlimited lesson lengths.

ShowMe is free to try, and it has a variety of other offers, including ShowMe Premium for $9.99.
Splashtop allows teachers to stream their screens with audio to their students' devices. Teachers can also pass control over to the students so they can share and interact.

Splashtop Classroom is currently listed as free.
Stormboard is pitched as an online whiteboard that is easy to use for brainstorming and collaborative projects.

Stormboard is free for personal use. They are currently allowing educators a free plan until the end of 2021.  
Conclusion
Interactive whiteboards have expanded teaching, especially when it comes to distance learning. Jamboard is a great tool to bring personal interaction between teachers and students through Google Classroom. However, there are other interactive whiteboard apps to try, depending on the needs of teachers and their students.
Another article you may be interested in is: