How do you manage a live classroom online and provide student support during and post Covid-19? I have been teaching this way for many years pre-Covid so let me share my teaching experiences with you.
Classroom Management Software provides teachers the ability to control student devices and their attention in a real or online class. Common features include remote control and view, screen sharing, distributing and collecting work, quizzes, usb blocking and whole class monitoring with thumbnails.
In this article I will share with what you should think about when buying classroom management software, the common features, who are the main suppliers and some personal tips and tricks when you are first using the software.
Now you have have a brief understanding of classroom management software lets look at the core features and the suppliers of it.
What Do I Need To Think About When Buying Classroom Management Software?
There are a few things you may want to think about when you are buying CMS software and below is the list of the things I think are important for you to consider.
Features
Suppliers
Value and Reason for Purchase
Type of License
Initial and Ongoing Budget
Technical Requirements
Teacher Training
Support and Maintenance
Overview Of Classroom Management Software
Classroom Management Software is simply any software you use to manage your classroom. When we say live classroom management software we generally mean software installed on the teacher and student computers and devices that allows for monitoring and control of the classroom as it actually takes place.
It allows the teacher to talk to the students, assign work, project their screen, block USB ports, block certain websites, remote control student computers and much more. The software has now been expanded to control hand held devices like phones and tablets so that the teacher can control the focus of the students to the lesson at hand.
The ability to control the digital assets in classes is extremely important in today's classrooms and this software helps you to do just that. The added benefit is that the students don't need to be in the same physical classroom and can be anywhere on the campus.
What Are The Typical Features Of Classroom Management Software?
USB Blocking
The ability to stop students from using USB ports which is generally done on laptops and tables supplied by your school, university or training company. This is done to prevent malicious software from entering the network as well as removal of large digital assets without approval. This forces students to email or use an online file transfer website which can be monitored for viruses and malicious software removal tools.
Internet / Website Blocking
This is simply the ability to turn off a students internet altogether or restrict the website they can access. This is good for content they should not be seeing in general especially for students under 18 and to keep them focused on their studies. This can also be done at the internet proxy level by schools and universities.
Screen Sharing
The teacher can share their screen to select students or the whole class as well as the ability to share a students screen with their permission with select students or the whole class as well. This is great for focusing students to the lesson and also for showcasing a students work.
Raise Hand (Digitally)
When students need help they can raise their hand digitally for the teacher to know they need help. The teacher can then remote control the students device and help them or go their desk and give them a hand if needed.
Remote Control Software
The teacher can either view only or take control of a students computer to help them out. This is brilliant and enables the teacher to close the feedback loop with the student as they work through their training material. When students are spread across the campus or school the teacher will often have a microphone headset to also help the student as well. With all laptops now coming standard with microphone and speakers that could be used by teacher and student as well to talk live.
File Sharing
Most of the Classroom Management software also adds a folder to the students desktop that is used for sharing files with the teacher. The teacher can use this to distribute and collect the work from the students.
Quizzes
This is the ability to conduct summative quizzes with students to check if they understood the last lesson and are ready to move on. Typically these are anonymous so students don't feel singled out when the results are presented to the class. The teacher can then opt whether to save the real results to the learning journal for latter review of which exact students need further help.
Text Chat
Some of the Classroom Management Software comes with a group text chat for when students are not in the same room or even if they are. Included in the chat feature is the ability to private chat other students or the teacher as well. The chat can be monitored by the teacher and this allows the students to ask questions of the teacher and engage in social learning.
Thumbnail Monitoring
As the course is running the teacher has access to thumb nail views of the students desktops, phones or tablets so she can keep an eye on what they are doing. The teacher can expand this view by simply hovering their mouse over the thumb nail to see a bigger image of the students device.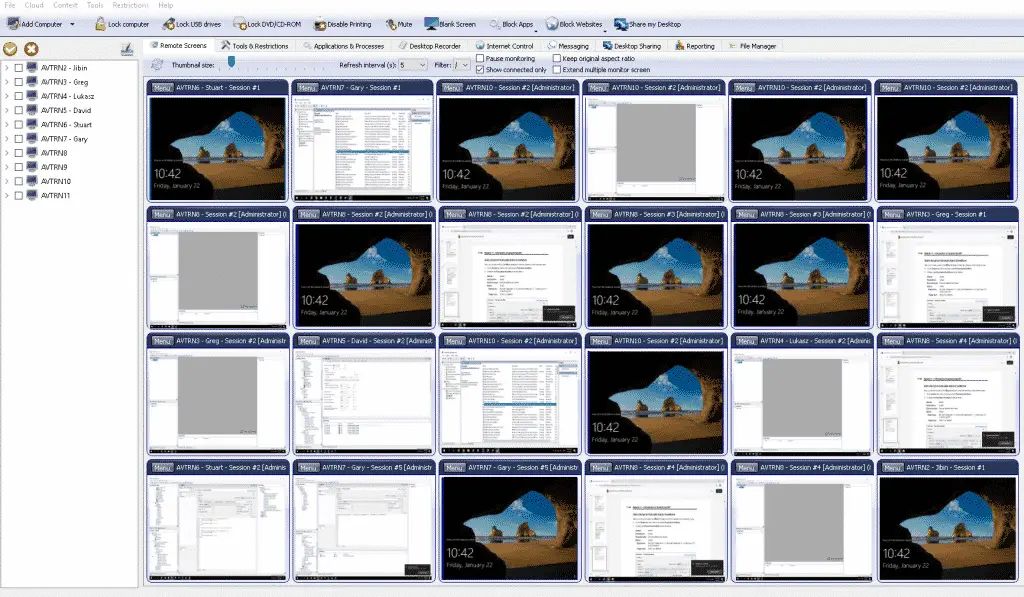 They can also then right click and remote control the computer or device from here as well.  This is probably the most important of the features in the Classroom Management software for the teacher as real time monitoring of where the students are lets them know when to move on or when a student needs help. 
Blank Screens
This feature allows you to essentially turn off a students device screen to bring their attention back to what is being taught in the class. You can do this selectively to students or to the whole class.
Push Out Website
This allows teachers to push a website out to all student devices which allows them to then follow along with the teacher.  This solves the inevitable question of "What was that site again?" that you always get at the end of a presentation.
Remote Start Applications
This allows teachers to remotely start software or run commands on a student device. This is really handy if you want to do it for a group of students. If it is a single student you may opt to remote control their machine instead and show them so they know for next time.
Shared Interactive Whiteboard
This simple concept of a shared whiteboards allows the Teacher and Students to interact on a virtual whiteboard where everyone can participate.  The teacher can turn on and off shared control for the students.  Unlike a traditional whiteboard you have more graphics tools available and can bring in pictures and other richer multimedia content.
Digital Class Journal
This is the ability to keep a record of what is happening in a particular class as a digital journal. It is great for the teachers feedback and performance reviews but also for the student to revisit what they did in that class. The Teacher can choose what goes into this teacher and student versions of these digital journals for each class.
Selective Grouping
You can group students into working groups and name the student devices and the groups they are part of. This is great for team work exercises and you can also name the groups in some classroom management software.
Other Features
There are many more features that each different classroom management software product has but this is the core set of most used ones. Check out the actual products below for their completed features lists.
Who Makes Classroom Management Software?
While there are many suppliers of general classroom management software for the Live Classroom Management software there is only a few big players worth looking at. There is one Open Source (Free to use) software for commercial or personal use as long as you don't try to sell their software on wards you are generally not breaking their license agreement. We will also have a quick look at the other main paid tools on the market at the moment.
Veyon (Open Source)
This is the only open source or free to use one on the market at the moment and was formerly known as iTalc. They developer lost interest and has recently got back into developing it again and with that came its change in name. They are slowly increasing the features and fixing all the bugs that it used to have.
It has now become almost a viable entry level alternative but is still missing a few nice features like auto detection of server and client machines. You have to put in the actual ip address and port of each machine still. There is a tool they have for this but they are wanting to charge for that feature as an add on that is standard in all other CMS software. Support times are not guaranteed like with any open sources software.
LanSchool
https://www.lenovosoftware.com/lanschool
Lan school has been around for a long time and is owned by Lenovo Software. It has all the features of the other Classroom Management software packages as well as its new Air product that integrates to google classroom with a web interface. The HTML5 interface is quite handy and it means the teacher does not have to install anything but you will still have to install the client on the student devices.  They boast a 12 million+ user install base.
NetSupport
https://www.netsupport-inc.com/complete-classroom-management/
Net Support boasts a 16 million install base and not only has been around for 25 years but also a nice range of additional products to help with your other classroom management needs.  While the asset management solution is a good solution it then has to be compared with the bigger IT asset management products. 
If you wanted to single source from one supplier this might be an option for you.  The product is feature rich as you would expect from the market leader but also has a price tag to match.  Net Support has been thoroughly tested and will work with large amounts of computers at the same time.
NETOP Vision
This smaller player in the market with a simpler interface is a reasonable alternative if you don't have 100's or 1000's of assets you are trying to monitor. For a simple classroom and tool set it is great but I have not seen it work on large amounts of computers and is not as feature rich as its competitors.
Net Control 2
This is one of my personal favorites and one I have used many times in the past. It has a simple interface but all the features you want. I specifically like the cheaper single class entry licence called Small Class which allows you with 1 Teacher and 15 student connections. The reason I like this is because it is the cheapest and works in well with the smaller technical classes I teach online.
Radix
This not well known software has all the main features of the big players in the market but also worth a quick look. Not as popular at some of the others but they have a good demonstration video on their website to give you a basic run down of how it works.
Mythware
Another not well known product that has all the core features and boasts the ability to video stream to 60 clients with loss less transmission across a cheap WiFi. While most of the products require a cabled or strong WiFi and this ability is worth checking out if you have a poor WiFi connection and are not using cabled networking.
What Tips And Tricks Can I Share About Classroom Management Software?
Tip 1 – The Software Should Enhance The Learning Experience
When you are using Classroom Management software in the classroom you need to constantly remind yourself that there are some great features but if it does not add to the learning experience of the student or simplify training for you as the teacher don't use the feature.
Tip 2 – Thumbnails Are Everything
No matter how many times I use the software to teach most of the time I am monitoring the student machines via the thumbnails and hovering over them to get a bigger view of what they are doing. This is the most important feature and it needs to work quickly and perfectly. If you don't have good quality thumbnails with a simple bigger view by hovering over a student the software is not worth it at any cost.
Tip 3 – Resist The Urge To Blank Student Screens
While the thought of being a god in the classroom is appealing only blank students screens if they are really misbehaving. The reason is that while you like being their ONLY source of attention the reality is students learn better when they can research about what you are discussing and add to the discussion. Maybe just restrict their internet to educational content.
Tip 4 – Get To Know All The Features
While it is easy to just figure out how to use the 3 or 4 features you commonly use don't be afraid to explore the other features as well. There are some great features that will save you time and effort. A tool is only as good at the one using it ;o)