Picking the right Learning Management System (LMS) can be quite difficult and this article will help you compare Blackboard vs Moodle.  This simple comparison will make your choice of LMS more informed and suggest some next steps for you.
What will we compare between Blackboard and Moodle?
General Features
Installing & Maintenance
User Security
Look And Feel
Managing Courses
Student Assessment
Pricing
Extendibility & Integrations
Staff Training
Support
Now you know what the most important functions of the two learning management systems are. Let's figure out which one is the best for you.
Introduction
A Learning Management System is basically a website that we use to manage the student learning experience.  It is where we host training courses or supporting material for in classroom training.  We can not only use it to host our training content but also somewhere we can assess students and store their results.  There are many LMS on the market that are both open source which you can use for free or paid LMS that are licensed and paid for.
When we are comparing Blackboard and Moodle we need to know have a fair list of features to compare between the two of them.  Blackboard is the number 2 LMS by market share and Moodle comes in at position 3.  When people talk about Blackboard they are really talking about Blackboards LMS called "Learn" so the correct comparison Blackboard Learn to Moodle.
LINK: LMS Rankings
Does this mean Blackboard is the better LMS.  It means more people use it but not necessarily that it is better.  It depends on your budget and reason for using an LMS.
For a list of common LMS Features check out this article:
ARTICLE : What are the features of a Learning Management System?
General Feature Comparison
The first and most important thing we need to look at is a comparison of the core features of LMS between Blackboard Learn and Moodle.
Both Blackboard and Moodle offer this feature for their administrators:
Feature
Blackboard Learn
Moodle
Course Content
Yes
Yes
User Security
Yes
Yes
Scheduling
Yes
Yes
Assessments
Yes
Yes
Certification
Yes
Yes
Communication
Yes
Yes
Marketing & Social Media
Yes
Yes
Multi-Lingual Support
Yes
Yes
Mobile Learning
Yes
Rated 3.8 on Google Play
Yes
Rated 2.9 on Google Play
Tracking & Auditing
Yes
Yes
Reporting
Yes
Yes
Payments
Yes
Yes
When both products have the same features then you need to dig into the features and look as which are easier to use.  Then price is a major differentiator between them as well as the level of support. So lets look at what you will be using the most.
TIP: While you go through this article it is wise to review the features at the same time on the demo sites for both LMS.
Blackboard Demo Website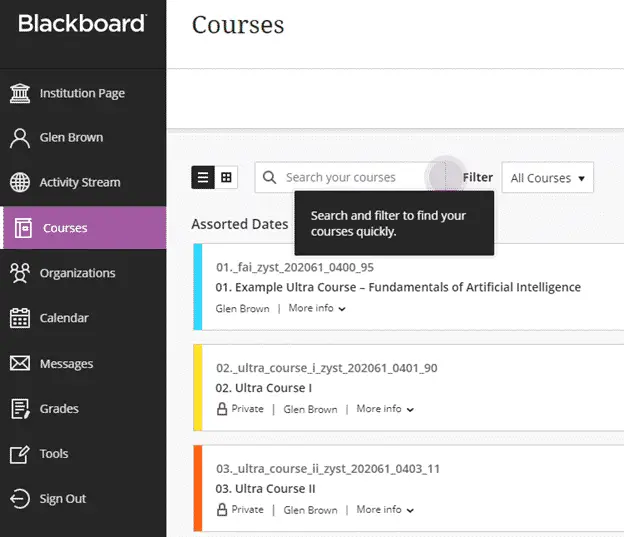 Moodle Demo Website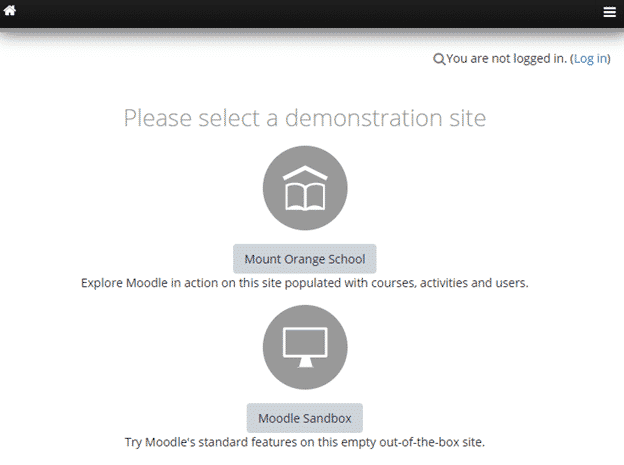 NOTE : Use the Mount Orange School as a Demo if you are K-12 and the Moodle Sandbox if you are any other training organisation.
Installation & Maintenance
When you use either Blackboard Learn or Moodle using the Hosted solutions the installation is done for you.  You will still need to do the following on your LMS:
Set up your public pages
Set up your Administators / Teachers / Students
Load your Course Training Material
Set up Additional Plugins

Payment Gateways
Reporting
Third Party Integrations
Etc

Setup General Settings

SEO (if a public training organisation)
Social Media Links
System Settings
While Blackboard or Moodle hosted is the most popular you can also install both on your own web server and Blackboard has an extra type of install as SaaS (Software as a Service).  SaaS means they will install your server and do the maintenance for you for a monthly fee on top of the licensing cost.  While Moodle themselves don't offer SaaS you can get this through one of their partners.
Blackboard as a paid product will support you through the installation on your own servers so you can go directly to them for support to do the initial installation.  You also need to talk to them to gain access to the installer.
For Moodle Self Installation you are on your own and the link below will help you to do your install.  The self-install of Moodle is free though so worth a little pain to get it up and running.  It is way simpler these days and they have really picked up their game on the easier installation.
Moodle Self Installation
https://download.moodle.org/releases/latest/
To install Moodle on Windows or Mac there are single click installers that will guide you through the process.  You will need to have PHP and a Database installed prior to the install.  The databases you can use and the version of PHP required are on the link above.
User Security
Managing your Administrators, Teachers and Students and being able to allocate the right permissions to them is a core feature you will use consistently.  Whether you have your IT department or a designated Administrator be the only person that can do this depends on how you will be using your LMS.
But from a practical aspect there are some things we want to secure:
Student Access
Teacher Access
Course Access
Administration Access
These features are both built into both Moodle and Blackboard Learn but how you do them is slightly different.  They both however use a User & Roles style security just like windows.  They both let you to create roles for groups of users and then create users to assign to those roles.
This means they are both the same from a security point of view.
Look and Feel
When we talk about look and feel this is generally called a Theme or a Skin.  Moodle has their themes on their website and has open standards for third parties to make new themes as well.  Blackboard has some themes you can use but not as many as Moodle and Third parties can not make new themes and publish them to the world.
With both Blackboard and Moodle you can install a theme and configure it however you like.  So you can ad your own graphics and logos and change colors.  You can brand both of them, but you will get more choice with Moodle.  Some of the Moodle themes are free and some are made by third parties and will cost you a small amount of money.
LINK: Moodle Themes Search
Managing Courses
One of the most core features of a learning management system is the ease of adding training content.  From individual topics to subjects and then to full courses, this something that you do daily.  I know for me when I use a tool every day how little things can really annoy your so lets look at this features.
When you are creating courses in Moodle teachers can create their own courses but in Blackboard the administrator is the only one by default that can create new courses.  This means that Moodle has been designed to be more flexible by default, but you can remove the ability to create new courses from teachers in Moodle if you want them to be the same.
When you are sourcing your content for your training courses Moodle lets you load your own content through individual activities and resources or via a SCORM package.  Whether you made this yourself, contracted it out or purchased it as a whole package they can all be loaded.
Blackboard has all the features of Moodle plus it also allows integration to their Content Market where you can load content from one of the approved content providers.  This feature one ups Moodle and allows for you to get down to teaching students quicker.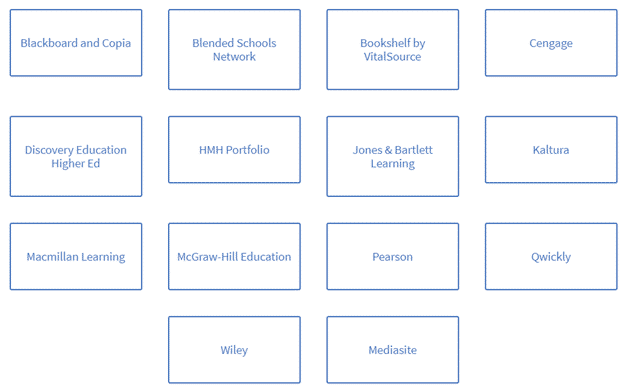 When you are adding your own content to Moodle a course can have many topics and when you create the course you can pick the content format.  The formats are: Topics, Social, Weekly or Single Activity.  This defines the structure of your course content.
With Blackboard you only get the option of a Topic style course creation which is supported and most used by most teachers using LMS.  But Moodle has clearly beaten Blackboard here, but I am sure they will catch up.
Content Types
Both systems support multiple content types although they call them something different.  In Moodle they are created as Activities.  In Blackboard they call them Content Items.
Moodle Activities
Moodle Resources
Assignment
Chat
Choice
Database
External tool
Feedback
Forum
Glossary
Lesson
Quiz
SCORM package
Survey
Wiki
Workshop
Book
File
Folder
IMS content package
Label
Page
URL
Blackboard Content Elements
Document
Link
Teaching tools with LTI connection
SCORM package
Assessment
Test
Assignment
Participation and Engagement
Discussion
As you can see from the tables above Moodle has many more options than Blackboard so on variety alone is a better option.  The Activities on Moodle also have many more options you can configure so for this section I would say Moodle has won in standard course elements.
Blackboard has a built in Web Conferencing software called 'Blackboard Collaborate'. If you wanted this feature with Moodle you would have to set up and account with one of the third party providers like Cisco Webex or Zoom.  In both cases it will cost you to set this up but do your due diligence as prices are always getting cheaper.
If you want to be inspired with what content types you can add to your learning then check out this article.
ARTICLE: The Ultimate Guide To eLearning Content Types
Student Assessment
Both Blackboard and Moodle offer great grade books where you can record student marks but there are some differences between them.  They both allow you to include assignments and quizzes built of your own question banks to be included in the grade book.  I personally like the look and feel of the Moodle Grade Book over the Blackboard one.
Blackboard Open Grader
Blackboard integrates a tool called 'Open Grader'. It is an alternative grading option that simplifies the grading process. The teacher can view, grade and navigate through students' submissions. It comprises an interface that features a two-pane view.
The Open Grader allows the teacher to adjust the two-panel view in accordance with its needs. The teacher can grade different submissions successively without having to use multiple tabs. This tool also supports advanced grading methods (such as rubrics, checklists, and marking guides).
The Open Grader feature includes a progress tracker for the grade. Every mark goes through six different stages before being accessible to the student. These stages are:
Not marked – the marking process has not started yet
In marking – the marking process has started but is not finished
Marking completed – the teacher has finished marking the work but might need some corrections
In review – the teacher in charge of quality control is reviewing the mark
Ready for release – the mark is ready to be released to the student
Released – the students can access the grade
Blackboard allows the titular teacher to allocate additional markers. These additional markers can view and grade students' submissions. There is no maximum number of allocated markers for an assignment.
Moodle Integrated Grader
Moodle learning management system features a grading method like the Blackboard Open Grader. The interface is also split into two different panels: one for the submission and one for the grade.
The teacher can add comments to certain portions of the document. It is possible to draw shapes to point out specific mistakes.  The teacher grading interface features a control panel. This panel contains different visual tools that can be used for marking papers.

Additionally, in the right-side panel the teacher can see the grade's summary. The grading method integrated into this learning platform contains the same six above-mentioned mark stages. The teacher can change the marking workflow state at any time.
Only the teachers that are verified on that specific course can grade students' submissions.
Pricing
Despite the similarities revealed so far, in terms of pricing the two platforms are quite different.
Moodle Open-Source
LMS Moodle is an open-source system. It means that everyone can download and use it for free. You can access Moodle in two different ways:
Using Moodle as a cloud-based platform inflicts paying for a subscription. The price depends on the number of students you will have enrolled. The self-install version of Moodle is free to download and use.
Before deciding whether to use the cloud or host your own server you can use the Free Trial which is just like the demo but your own installation that you can configure and if you choose to keep it you can do so at the end of the trial.
The trial version includes:
Limited time: 45 days
Up to 200 users (both students and teachers)
400 MB cloud-based storage
Latest Moodle version
Unlimited number of courses and activities
Custom domain (branding)
Mobile app (iOS & Android)
BigBlueButtonBN Video conference tool
If you decide to go for the cloud-based usage of Moodle, you can choose between two packages available: starter and Moodle for School.
The starter package is designed for online teachers teaching only one class. It can support up to 50 users. It also unlocks some important features, apart from the ones included in the Free Trial.
The other package available is called 'Moodle for School'. It is divided into three memberships: mini, small, and medium.  It has the features set up for multiple teachers, teaching multiple classes with lots of students.
You can find more information about the Moodle pricing here.
Blackboard Learn
Even if the price is one of the most important factors when choosing an LMS, the Blackboard team prefers not to disclose this information. According to their website, the annual subscription fee depends very much on the number of students attending your online courses.
Most of the online sources have the prices quoted as $1200 / student / year which is extremely expensive especially if you have students that are not with you for the year.  For this price you would expect way more in the way of features to even compare with Moodle.
I have seen some companies pay ridiculous amounts of money for LMS over the years without doing their due diligence on pricing first.
Staff Training
Staff training for administering your site and training teachers is critical to the success of choosing an LMS.  This is a key point of difference between Moodle and Blackboard.  Moodle has two online courses.  The first for teachers and the second for people that are administering Moodle.  They are both self-paced eLearning style training courses.
Blackboards training options are much better with multiple courses run in person and remotely depending on the course types.  There are 10 courses available for your staff from upgrade to administration and for teachers.
Now that is the official training and one advantage for Moodle is there is heaps of online courses for Moodle on Udemy and YouTube for free or a small fee.  I would check the prices of Blackboards training and make sure you add that to their quote price for your staff and for future hires.
Moodle Training
Blackboard Learn Training
https://www.blackboard.com/services/consulting/educational/blackboard-learn-training
Extendibility & Integrations
When choosing an LMS for your online courses it is important for the system to be compatible with other software solutions that you might be using. Plugins and additional applications allow you to extend the functionality of the LMS or to integrate to your other systems.
Moodle Plugins
LMS Moodle features a huge list of 1688 plugins and 950 developers at the writing of this article. This is way more than the functionality that you can add to Blackboard.
You can find the plugins here:
All the plugins are continuously updated by the worldwide community. Some are paid for and some are free depending on the licensing with the developer.  Paying for a critical plugin means you also get support and a guaranteed Service Level Agreement (SLA) on how quick they will respond to your support requests.  It also means they will be kept up to date.
The Moodle Plugins allow for Integration to third party systems as well as extending functionality.  So you could integrate easily to Paypal for instance.  Moodle also has plugins to integrate to Blackboard tools.
Blackboard Plugins
Blackboard does not have as many plugins and doesn't have as many developers creating these plugins and keeping them up to date, but they can be found here:
Available Support
Normally when we discuss paid versus free software the biggest reason people choose the paid option is that they get guaranteed support even if there needs to be an extra fee for it.  Both legally and from an efficiency point of view support is critical to do what you are good at.  Teaching students.
If you use the self-install version of Moodle the support is not guaranteed, and it will be through forums and contracting support to a third party.  Keeping in mind Moodle is used by millions of people so problems are normally fixed quite quickly.
If you use the hosted solution, then support is built into your monthly fee.
Moodle Support Team
LMS Moodle features a very flexible support team. Whenever you encounter an issue, you can ask for guidance using various methods. These methods include:
Email Support
Phone
24/7 Live Chat Support
Online Support Tickets
NOTE: If you installed Moodle with one of their partners then you will receive your support through that company, and it is important to discuss that with them when you contract them for the install.  Ongoing maintenance and support.
If you like local support from people you can meet up with then you can also look at the Moodle partner website and find partners in your area.  Click the link below and then change the search to your location and support as the category.
LINK: Moodle Partners
Blackboard Assistance
The Blackboard learning management system is not that helpful when it comes to overcoming an issue encountered during the online learning process. This LMS features the following support methods:
Phone
Online Support Tickets
This LMS does not have 24/7 live support available. It is a major drawback when you encounter problems that are hard to fix. However, one advantage is that you can use the online training facilities to prepare you and your students.
LINK: Blackboard Learn Online Help
So, What Would I Do?
Well looking at all the information on these two Learning Management Systems I would choose a self-hosted Moodle installed and supported by a Moodle Partner.  The file size and user limitations of the Cloud Moodle installs is a major downside to the Cloud Hosting Moodle install.
With a partner install and support and maintenance contract I get the best of both worlds with as many users as I want and much more hard disk storage for my training courses.  Which means I can host much more content and have full control of my servers.
Blackboard is just way to expensive when they don't really have that many features and I would expect a paid solution to have significant extra features not less.  And with each new feature or plugin that I use potentially costing me even more the figures do not add up.
Blackboard was installing Moodle with Open LMS but they recently sold that part of their business to a Moodle partner so if you were using it here are their new website.