When teaching Maths online one of the most useful tools you can have is just like in the physical classroom, a whiteboard.  This article will introduce you to the online whiteboards available and rate them for use with Mathematics.
Which are the seven best online whiteboards for teaching math? There are multiple online software solutions that aid the educational process when it comes to mathematics. However, the seven best online whiteboard apps are:
Stand Alone Whiteboards

Scribblar
BitPaper
Ziteboard

LMS Plugins
Web Conferencing
 Now that you know the ways you can use online whiteboards let's dig into them a little deeper and compare their features so you can make an informed choice.
---
Have you always wanted to know how to become a DJ and where they get their music from? Then check out these articles to get you started and learn from DJ Cubillan about just what you need to get started.
ARTICLE: What are the 11 simple steps to being a successful DJ?
ARTICLE: What is Soundeo and how to use it to download music? Including tips to get the most out of it
---
Scribblar
Scribblar is one of the most popular online software solutions that feature an integrated whiteboard. It provides a real-time whiteboard with multiple uses and an advanced yet user-friendly interface. Scribblar is an extremely useful tool for teachers regardless of their subject (mathematics, physics, economics, etc.). It provides useful features, such as
Voice and text chat
Multiple users working on the same project
Unlimited space
Privileges that can be restricted
Various shapes available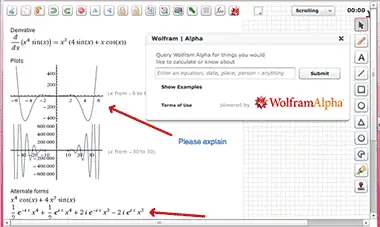 Voice and text chat
Having an integrated voice chat and text function, it allows both the students and the teacher to speak directly using their laptop's microphone. This is a very important feature when it comes to online teaching.
Multi-user
One of the most important perks of Scribbler is it not limiting its users to attending one-to-one classes. This online whiteboard allows multiple users to take part actively in the class. Not only can the teacher draw and manage the whiteboard but so can the students. The whiteboard supports a wide variety of file formats. One teacher can tutor multiple students at once and conduct group classes as if students were in a physical classroom.
Unlimited space
Scribblar includes many useful features for teachers to use. The amount of space that can be used on the online whiteboard is unlimited. There is no need to delete previous work to write something else instead. Next, the teacher can restrict certain users' privileges when it comes to editing or visualizing the whiteboard content.
Privileges that can be restricted
This way, you can assign students to work on separate tasks without being able to copy from one another. Because of this feature math teachers can assign equations to each student or group of students. After the students solve the equation the teacher can check the whole method used by the student to solve the problem.
Various shapes available
Scribblar also offers a wide variety of shapes that can be drawn on the whiteboard. This means you can materialize complex equations and math problems, without having to upload a PDF to use as a background or as an attachment for students.
You can find the complete subscription plans list at https://scribblar.com/plans.
BitPaper
This is one of the most popular whiteboards for teaching on the internet right now.  BitPaper has a lot of useful features and an intuitive user interface for both the teacher and the students.
Useful features for teachers:
Online Chat
Audio and Video Chat
Screen sharing
Drag and Drop
Auto Saving
Data import and export
Multi-User
Permanent Web Link (URL)
Supports Multiple File Formats
Limited Feature Free Usage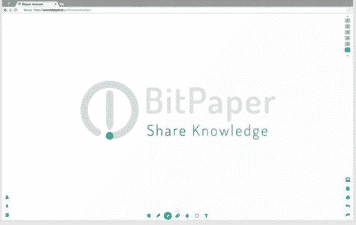 Online Chat
The ability of a student to chat using a shared chat means the students can ask questions while the teacher is presenting their new topic or subject.  It also allows the teacher to share related links to content.
Audio and Video Chat
The use of Audio and Video chat means that the nonverbal communication that normally is available in the classroom can come across to the online teaching environment.  The ability to hear the tone and inflection of the student's voice will let the teacher know if the student really understood.  The use of video chat means the teacher can read the student's body language for the same reasons.
Screen Sharing
The ability to share your whole screen in a Web Conference style way means that you can show students absolutely anything you can see on your own computer.  You can demo software packages and show students how to complete any task on their own computer with your computer.
Drag and Drop
Rather than having to click on a button and go searching for a file on your computer using a windows file browser, it is so much simpler to be able to drag and drop directly onto your whiteboard.  It saves time and is more intuitive.
Autosave
When you are teaching a class, you are juggling heaps of things and even more so in an online class where there is also technology to deal with.  The Autosave feature means the whiteboard is saved periodically so that you do not lose your work and have one less thing to worry about.
Data Import and Export
Mathematics extensively uses data sets for higher math problems and the ability to import and export this data means you don't have to recreate it in the whiteboard.  It also means you can base your mathematics on real data sets.  Once you have changed that data during the class you can then export the results by downloading them to your computer or to student computers.
Multi-User
This means that the teacher can present, and the students can also be allowed to have access as well in a tutorial style delivery to show understanding.  This increases engagement for the students and helps the teacher clarify topics.
Permanent Web Link (URL)
The ability to have a permanent web page link or URL (Universal Resource Locator) means that once the student knows the link they can bookmark.  This means it is easy for them to attend the next class and share with other students.
Supports Multiple File Formats
The ability to support multiple file formats means that you don't have to convert documents for use with the whiteboard.  Supported file formats are:
Images (JPG, BMP, GIF, PNG)
Word Documents
Adobe PDF Documents
And more.
Limited Feature Free Usage
BitPaper is an online whiteboard software solution that can be used for free. However, the free plan limits the use of certain functions. For example, you cannot start calls and you can only submit one paper per month.
Full pricing is available at https://bitpaper.io/pricing/.
Ziteboard
Ziteboard online software solution is probably the simplest online whiteboard available on the Internet. It is mainly designed for real-time tutoring. In terms of mathematics teaching, Ziteboard is excellent. It provides a vast amount of unique shapes that are used to make the student understand any content related to math. Its features include:
User-friendly interface
Whiteboard export
Great compatibility
Multiple feature free usage plan
User-friendly interface
The most important feature of this software is the user-friendly interface. Its layout is lightweight and easy to understand, yet powerful, including a lot of advanced visual capabilities.
Whiteboard export
One unique feature that Ziteboard provides is the availability of the whiteboard as image files. You can export the whole whiteboard as a PNG file or select a certain portion of the screen to export. You can download the whole whiteboard as a high-resolution SVG file compatible with Adobe Illustrator and other vector image editing software. Finally, you can download the entire whiteboard on separate pages as a PDF file.
TIP : Keep in mind that if you want to export the whiteboard as a PDF file, switch on the Display A4 pages feature so that the board's size will fit A4 size dimensions.
Great compatibility
Another aspect that makes Ziteboard a great online whiteboard software solution is compatibility with a lot of different devices. You can install Ziteboard as a:
Multiple Feature Free Usage
Regarding its subscription prices, Ziteboard features a Free Starter plan that comprises an unlimited number of public shared whiteboards and real-time collaborators. However, it only provides three whiteboards that can be used before purchasing a Pro plan, and only three basic colors available. The major drawback of the Starter plan includes limited data traffic on the website and on the whiteboards. The most expensive subscription includes an unlimited number of private boards, whiteboards, collaborators, and colors. It also provides unrestricted data traffic on the website and on the whiteboards created.
 To check the full pricing, visit https://ziteboard.com/pricing/.
BigBlueButton
BigBlueButton is an open-source plugin compatible with the Moodle LMS. It provides a lot of distinct features that make the learning process easier and more intuitive, such as
Video, audio, and text chat
Screen sharing
Multi-user
Freeware
Whiteboard
Many visual tools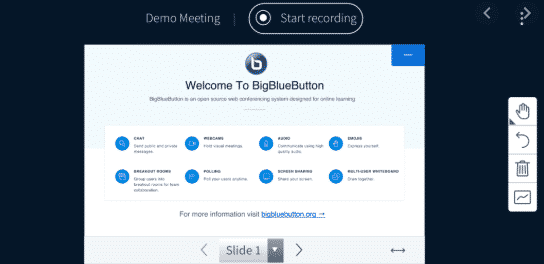 Video, audio, and text chat
This plugin supports real-time sharing of slides and a user-friendly whiteboard integrated within the video call. That this software includes a wide variety of features along with a whiteboard represents an important feature compared to other software solutions available on the Internet.
Screen sharing
This is a particularly useful feature when it comes to PowerPoint presentations or tutorials on how to use specific software. However, teaching math does not always fit the screen share feature. The whiteboard feature is more useful because the students can work along with the teacher on solving equations.
Multi-user
The whiteboard offered by BigBlueButton is a multi-user feature, meaning that more than one user can make annotations on the whiteboard and manage the content. You can use screen sharing feature at the same time as the integrated whiteboard, helping you as a teacher, to make important observations related to the shared screen. You can also use the whiteboard as a demonstrational environment where the students can prove the understanding of learned concepts.
Freeware
Another thing that must be taken into consideration is related to the pricing. Being an open-source plugin, its maintenance is provided by a sizable group of people. This way, there is no need to pay a fee to use the plugin on your Moodle-based website.  As with all open source software be mindful that the support is not guaranteed.  This is something you only get with paid software products.
Whiteboard
One important drawback of the BigBlueButton is that its whiteboard does not have a specially designed menu for mathematics. However, the mathematical equations can be solved using an integrated whiteboard in two distinct ways. The first method inflicts using a graphic tablet and the built-in pencil tool to draw the equations on the online whiteboard. The second method refers to adding the PDF file containing the equation solution to the workspace so that everyone can understand the solving process.
Many visual tools
The whiteboard tool menu comprises different visual tools, such as
Pencil

Text input
Line
Ellipse
Triangle
Rectangle

Pointer thickness
Pencil color
Web Conferencing
While these tools are not specifically designed for mathematics, they do however all contain whiteboards with all the common features.  They also have screen sharing to large audiences so can be used in a Lecture style presentation.  The ability to share your screen with many people means you can share your mathematics software packages with large audiences and demo or give tutorials.
Here is a link to an article for 30 free mathematics software packages you could share with your students via a Web Conference.
LINK: Top 30 Best Free Math software you can use
Webex
Even though it is not designed for teaching, it provides a lot of helpful features for teachers. Webex supports video conferences as well as screen sharing. Featuring a modern look, its various options include an online whiteboard that can be used for different tasks during the learning process.
Webex feature list includes:
Free plan with limited features
25 simultaneous video feeds
Whiteboard
Video and audio call
Multi-monitor support
Phone and Tablet Apps
And more
Zoom
Zoom is one of the most popular video conference online web conference software tools. It is commonly used for business and educational purposes. Its main feature is the generous free plan that can be used after signing up with a valid e-mail address. Another important feature consists of the option to blur or change your background during the video call. This is especially useful during classes.
To put it in a nutshell, there are many amazing features available on Zoom:
Free plan with a generous amount of features
Background Blur
Up to 100 people per call
Multi-monitor support
Phone and Tablet Apps
Whiteboard
And more
Note: Using the free plan, a call can only last up to 40 minutes.
GoToMeeting
This web conference software hosts video conferences. GoToMeeting is commonly used for business meetings. However it has multiple uses when it comes to e-learning as it features an integrated whiteboard. This feature helps teachers tutor multiple students by explaining using a customizable workspace.
GoToMeeting includes many features, such as:
Mobile apps for Android and iOS
Multi-monitor support
Up to 100 people in the conference
Advanced encryption of the meeting
Whiteboard
And more
PRO TIP – Safety Online
To protect yourself and not let people know your real IP address you can use Virtual Private Network Software in conjunction with your webconference software. This is more important when you are doing public web conferences where you may not know who is attending. The one I use is IP Vanish and it also has the added benefit of me being able to watch more TV Shows and Movies from multiple countries on platforms like Netflix.
Next Must Read Articles
ARTICLE: Are Online Math Classes Easier or Harder? (It Depends)
ARTICLE: 15 Practical Tips for Teaching your First Online Class