Custom background images in Microsoft Teams allow you to express yourself while making meetings more enjoyable and inclusive! When you walk into a Teams meeting, you want everyone's attention to be on you, not on anything else in the room or where you may be.
Custom backgrounds are a fantastic way to reduce distractions while also introducing new methods to connect face-to-face. There are free custom backgrounds in your Microsoft teams app that is pre-installed and ready to use at any time, even during your calls! With that said, where can these free backgrounds be found?
Steps to find and apply them:
Open up Microsoft Teams.
Select New Meeting
Select Start meeting.
Select Join now.
Close any pop-ups and proceed to allow your camera to use your app.
Select the three-dotted lines on top of the window for More Actions.
From the three-dotted line drop-down menu, select Apply Background effects.
On the right, you will find a panel with Background images; select one.
You may select preview to sample the images.
Once you are satisfied with a background, select apply, below preview at the bottom of the window.
Click on the "X" symbol to close all the different background images.
You now have all the attention on you!
Background pictures are supported by many videos calling programs. These allow you to create a different image behind you than your actual surroundings.
They're an excellent tool for making a call appear more professional by concealing a cluttered room or adding a corporate logo (which is more important than ever, given that so many of us work from home).
Alternatively, in a simple call, you may add a comical background to have some fun. You may choose from various pre-installed background images, create your unique environments in Microsoft Teams, or even upload a custom background from your collection of pictures.
How To Upload A New Custom Background?
If you find that you have a school, university, or business logo that you prefer to have in your background for that final professional touch, rest assured, Microsoft Teams have got your back!
There is an option available to add custom images to set as your background. The steps getting there are not complicated and are pretty much in the same direction as to how you have applied your background image supplied by Microsoft teams.
Steps to add a custom background:
Open Microsoft Teams, and within the videocall, select the three-dotted lines (More actions button).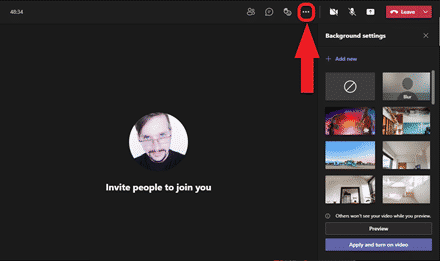 Select Apply Background Effect from the drop-down menu.
Once selected, a panel of background images will appear on the right side of your window. Select the "Add new" option.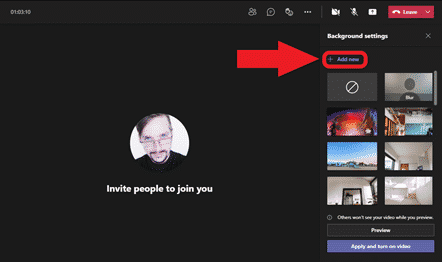 Once you have selected the Add new option, it will ask you to browse your computer for the desired image. If it is an image you have downloaded onto your computer from the internet, you will find that image in your downloads folder.
There are specific requirements to meet to upload an image. Fortunately, Microsoft teams are not too complicated.
Image Requirements:
Min Size: 360 x 360 pixels
Max Size: 2048 x 2048 pixels
File type: JPEG, JPG, PNG, BMP.
Aspect ratio: Greater than 4.
Once you have added an image, it will appear at the bottom of the list of background images in Microsoft teams provided on the right. Go back to Microsoft teams and scroll down by the pictures.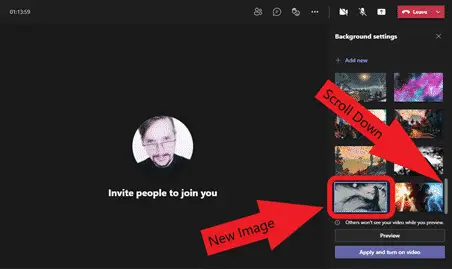 You can select "preview" to sample how it will look. Don't worry; only you will be able to see once you choose "preview." When the desired image suites your taste, click on apply, and Teams will set your new background image for everyone to see.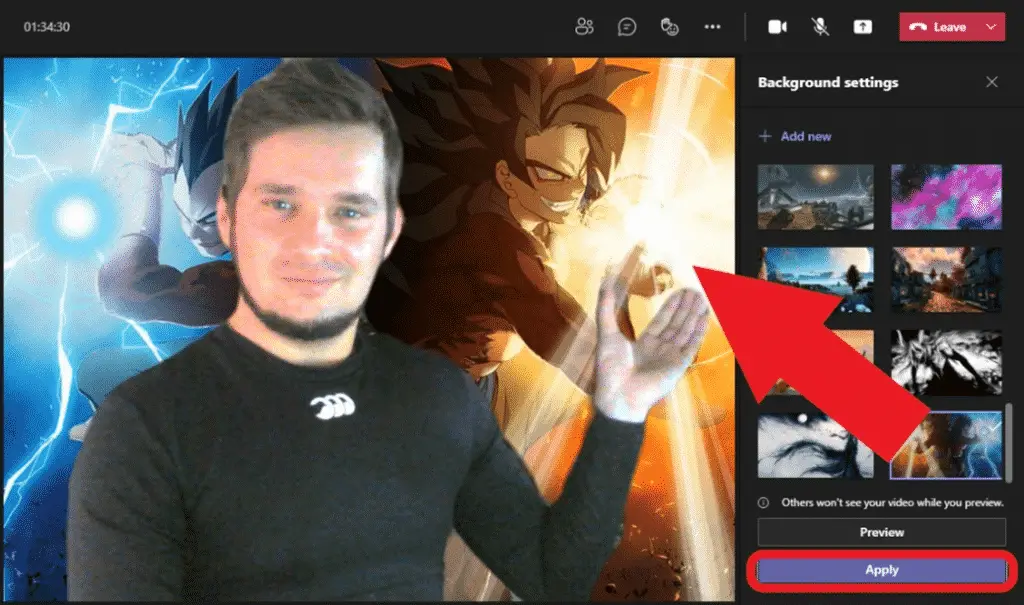 You can choose and utilize the picture in a meeting once uploaded to the Teams program. If you have uploaded the wrong file by accident, you may undo it by hovering over the picture to see a "…" menu in the top right of that image. Teams will erase the image from the uploads folder if you select Remove.
When installing Microsoft Teams, you can't get rid of one of Microsoft's pre-installed pictures as a selection of background images come fixed with the program.
Where To Find Free Images For Microsoft Teams?
Now that you understand how to change and edit backgrounds for Teams, you may wonder where to get more images. If you would like to see a list of free photos supplied directly by Microsoft, you may do so here.
The list supplies an array of themes and background images that may best suit your personality, occasion, or even the meeting topic.
A green screen, or simply a blank wall, isn't required. Teams use a highly trained model that distinguishes you from your surroundings and can impose a personalized background over everything else, allowing you to start expressing yourself in all of your meetings quickly and easily.
Companies are getting inventive with sets of backdrops you can quickly download and then post to Teams as the world turns to video.
Other sites that provide free Microsoft Team backgrounds:
https://www.canva.com/zoom-virtual-backgrounds/templates/
Canva primarily charges for pictures. However, there are numerous free backdrop pictures available. Preview an image that piques your attention before downloading it as a PNG or JPG file.
https://contentlab.com/teams#start
You'll find a diverse mix of background pictures from the realms of business, science, pop culture, and more at Content Labs. To download an image as a JPG file, click on the thumbnail for it.
https://www.fox.com/article/fox-microsoft-backgrounds-5e9faad3ab88be0019e77ed3/
If you like The Simpsons, Family Guy, or other Fox TV shows, the FOX Microsoft Teams Backgrounds page has various images. The page also explains how to save the pictures and add them to Teams.
If you are passionate, you may even create a gallery over time to add more to events, festivals, and festivities! Custom backgrounds are also a fantastic method to advertise special events within your organization or create buzz around best background awards to make meetings exciting and distinctive!
Conclusion:
Various sites will have images that suit your needs to find the best fit. Whether it is a personally uploaded background image or a pre-installed image supplied by Microsoft Teams, there will always be a background image available that may suit the occasion.
Microsoft Teams is forever improving, keeping up with a user-friendly interface that allows users to easily change features to their liking. Having the flexibility to change your background keeps the attention on you and not on a set that may cause a distraction.
References:
https://adoption.microsoft.com/microsoft-teams/custom-backgrounds-gallery/
https://www.youtube.com/watch?v=NjPapIyutHI&t=5s