When using Google Classroom can students upload audio? And if so how would they create, edit and upload it?  This is the discussion of this article.
Can students upload audio to Google Classroom? Yes, students can upload audio files to Google Classroom. To submit an audio file, users must perform the following steps:
Record audio
Upload your audio file on Google Drive (optional)
Open assignment section
Upload your audio file
If you are planning to create an assignment that involves audio files to be sent by the students through this specific platform, it is important to understand how students can upload audio files to Google Classroom LMS.
How audio files are uploaded to Google Classroom
Google Classroom provides a learning environment by blending features from other different Google extensions (such as Google Drive, Google Docs, Google Calendar, and Google Hangouts).
Because assignments uploaded to Google Classroom are hosted in a cloud provided by using Google Drive, a large spectrum of audio file extensions are accepted. After the teacher creates an assignment on an existing classroom, students can submit their work using any type of file, including audio files.
To upload a file for a designated assignment, you must complete the following steps
Recording Audio
Audio files can be recorded using a variety of software solutions that are either paid or provided free of charge on the Internet. The most popular apps that students generally use for recording audio files are:
All the software solutions previously mentioned are free of charge on their developer's website and have user-friendly interfaces. This is so that even the students who lack technological skills can manage to record an audio file with minimum effort.
It is very easy to find a guide on the Internet that explains the entire process of recording a quality audio file without having to scratch your head for hours or to pay an arm and a leg.
You can also improve the quality of your audio by using a good quality microphone. The Recommended Tools Page is where you can look for my current recommendations on microphones.
Using Vocaroo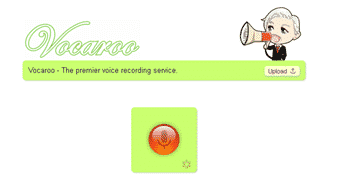 Vocaroo is the easiest software when it comes to recording an audio file and sharing a link to it. Being an online tool free of charge for anyone with an Internet connection. The software provides a simple interface that can be used in a web page.
The landing page contains only three buttons: a button that helps to switch between Recording mode and Upload mode, a 'Start recording'/'Stop recording' button, and a pop-up menu with two features: background noise removal and auto volume adjustment.
These are the steps to record your content:
Allow the Vocaroo website to access your microphone
Press the Start recording button
Record your Content
Press the Stop recording button
After stopping the recording process, you will be able to listen to what you recorded. You can save your file using various audio file formats.  The formats include three file types natively supported by Google Classroom: MP3, OGG, and WAV.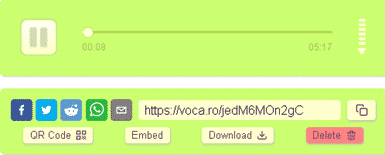 The other core function of Vocaroo is related to uploading audio files. Students can upload audio files using the integrated cloud storage offered free of charge by Vocaroo. Clicking on the Upload button will switch to the upload interface.  
This keeps the same user-friendly aspect containing only one Upload Audio File button that opens up a pop-up window from where you can select the desired audio file. After hitting the Upload button the software will provide you multiple sharing options. 
The social media sharing includes:
Facebook Link
WhatsApp Link
Twitter Link
Direct Link
You can also do the following:
Listen to the audio
Generate a QR code for sharing
Download the audio
Delete the audio
Uploaded audio files are available for up to three months being stored in Vocaroo Cloud. This means you can either upload it to Google Classroom or link to it on the Vocaroo Cloud.
This software can be used not only by the students to upload audio content relevant for the assigned task, but also by the teacher to provide audio feedback related to submitted work.
Fixing Up Your Audio File
Before you upload your audio you may wish to clean up your audio file and no matter whether you are doing it for Screen Cast or just direct audio this article will show you how.
ARTICLE: Editing Audio : Sound Like A Pro In A Screencast
Upload your audio file on Google Drive (optional)
This optional step of uploading your audio to Google Drive and then linking to it from your Google Classroom is optional.  It offers a feature that helps students to synchronize their Google Drive account with their Classroom profile. This means the students retain ownership of their content but can allow other people to listen to it.
The process of uploading an audio recording is similar to uploading any type of file on Google Drive. Steps include accessing the Google Drive website (https://drive.google.com/drive), clicking the New button and selecting the desired file.
Open Assignment Section
Students can visit the assignment section by accessing the Google Classroom platform (https://classroom.google.com/) and find an Assignment by doing the following.
Select their class (the stream section will appear)
Select the Classwork tab
Select the Assignment

Upload an audio file
The last step of the audio file upload process is done on the Assignment section in Google Classroom by clicking the Add or Create button on the right side of the page.  You can then simply select the File option. After the loading of the pop-up page the student can either drag the audio file inside the designated area or click select files from their device.
If you have performed the second step (Upload your audio file on Google Drive), you do not have to manually select your file from your device's storage. You can simply access the My Drive section before selecting the files to be uploaded.
Uploading your audio file on Google Drive makes the whole process easier as it provides a continuous synchronization between the two extensions created by Google.  This removes the issues raised by working on different devices.  Google Drive storage is free up to 15 gig per user account and then there is a small monthly fee to upgrade.
Audio Formats Accepted
Google Classroom uses Google Drive to store folders and files so the audio file format has to be supported by both software products. If you want to play the audio in Google Classroom or from Google Drive directly.  You can upload other audio file formats but you would have to download it to listen to it.
The five audio formats supported for online playback are:
NOTE : Most of the available audio software can export to one of these formats. For example: Quicktime can export audio files using MP3, MPEG, OGG, as well as WAV file format.  Vocaroo can only provide files with MP3, WAV, and OGG extension.
Other Uses of Recorded Audio
Uploading your Audio to Google Classroom also means that you can use it for:
Audio Instructions
Audio Lectures
Announcements
Assignment Feedback
Recorded Speeches and Interviews
Once you know how to upload the audio you can then use it throughout your online classroom to create a better relationship with your students and spend less time having to type in or update your course work.
Here is another article you will find useful:
ARTICLE: Can Students Record Themselves Reading On Google Classroom?
Next Must Read Articles
The Video Editing Software I Use
I do a lot of video editing for my online websites, blogs and elearning content and I am always looking for software that is easy to use with powerful features at a cheap price. I am not against using open source software or free software but when my income relies on it paid software is the only way to go as you have guaranteed support options with someone available to get me unstuck.
I have trialled many different tools but for speed of editing and powerful features to automate a lot of what I am doing I keep coming back to Wondershare Filmora. The tools it has around vlogging are quite cool as well and for under $50 USD a year or around $4 USD a month it pays for itself just in the time saving.
Click here to give the trial a go and see if it works for you as well.
PRO TIP: The latest version of Filmora has some great speed enhancements that make processing the completed video way shorter than previous versions so if you already have it maybe think of upgrading if your time is important to you.